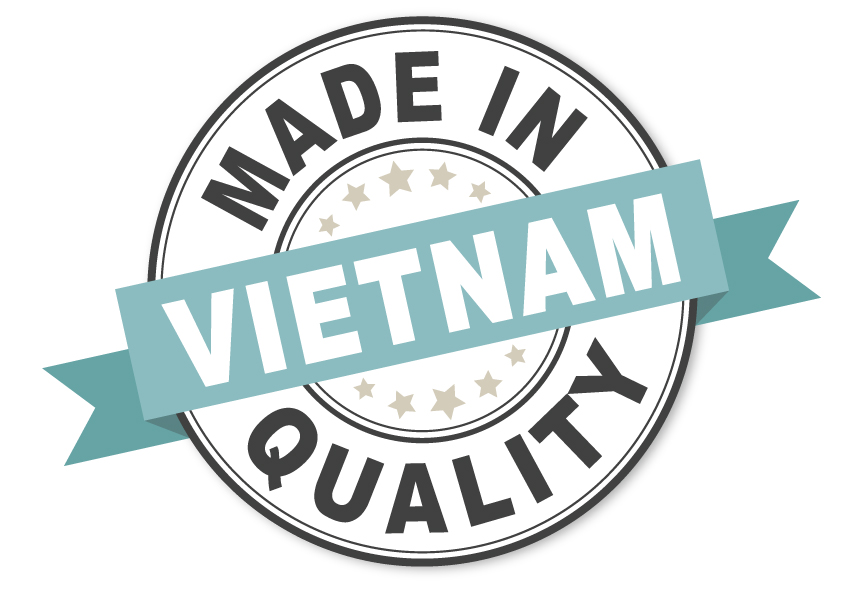 Custom T-shirt Manufacturer
Meet Paul, one of a few superb custom t shirt manufacturers in Vietnam. I spoke with him in this video about his trend forecasting. His factory makes contemporary fashion for men. I can introduce you to Paul and many other custom t shirt manufacturers in Vietnam. Or you can
contact Paul directly via LinkedIn
. He is one of the best custom t shirt manufacturers in Vietnam.
My name is Chris. I have been working in the Vietnam Garment Scene since 2008. My expertise is
advising fashion start-ups
and sourcing factories. I built this site to promote Paul and Vietnam. Read more about Paul below. Use the map to get to his factory.
Are you ready to visit a custom t shirt manufacturer in Saigon? Below are the directions to Un Available sewing factory. The best thing is to hire a taxi and give the taxi driver Un Available's phone number to call: 0938485766. Un Available chose their location to be close to the Tan Son Nhat airport for your convenience. Allow me to introduce you to Paul, the owner, before you show up. Contact Paul today.
Chris Walker
Ho Chi Minh City, Vietnam
VSource Co., Ltd.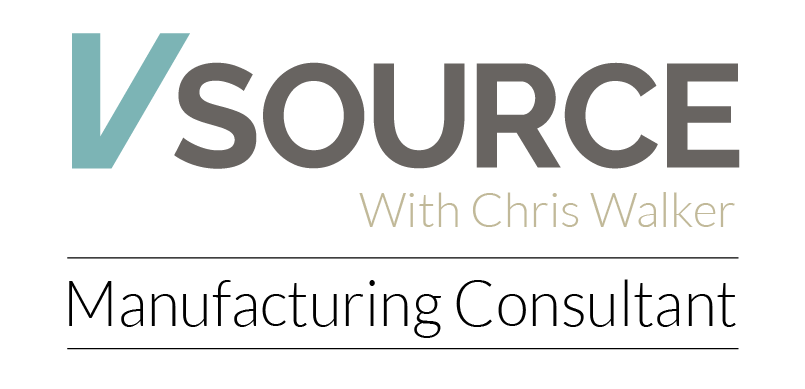 Custom T Shirt Manufacturers in HCMC
Read -> Learn -> Then contact the factory.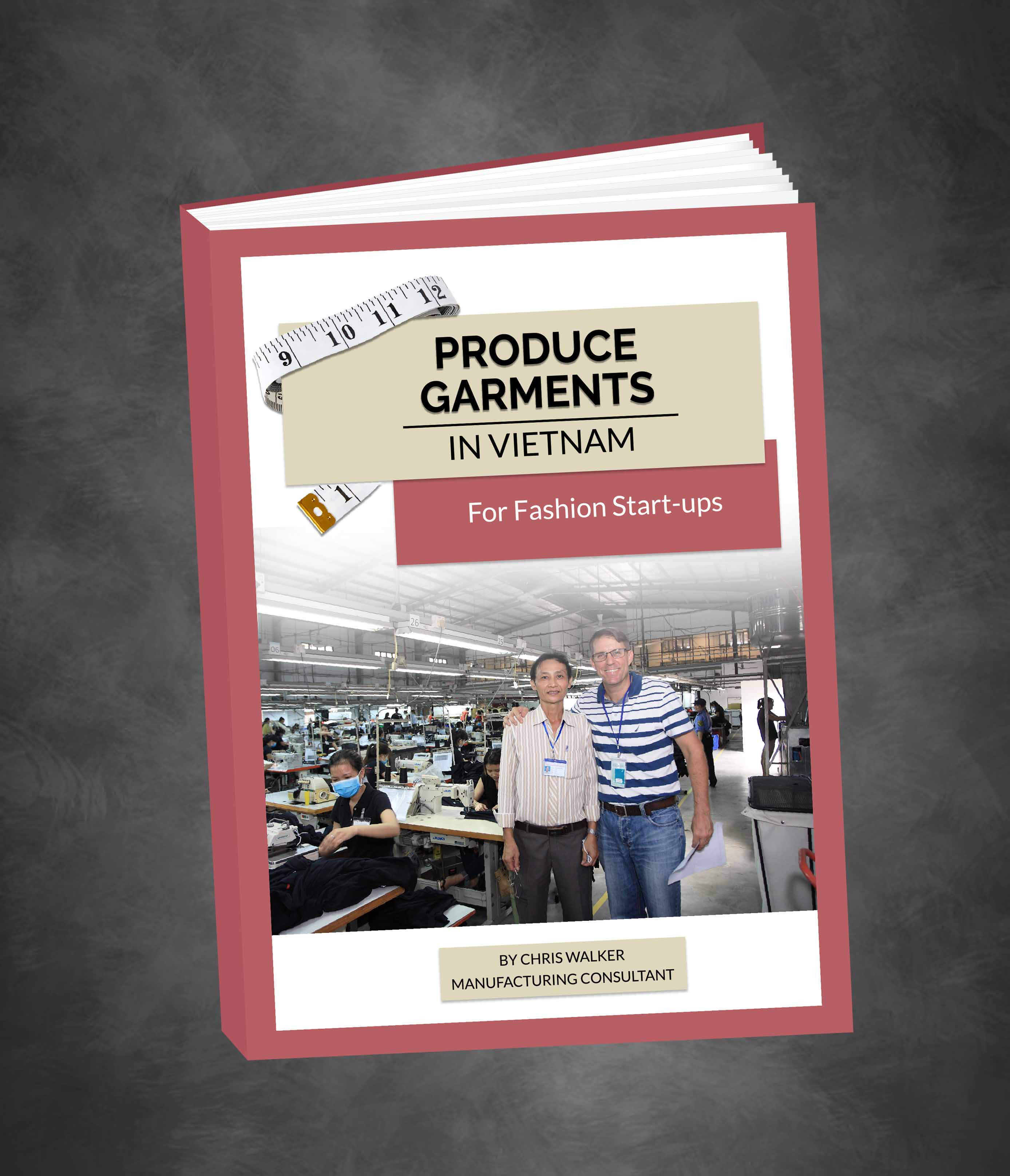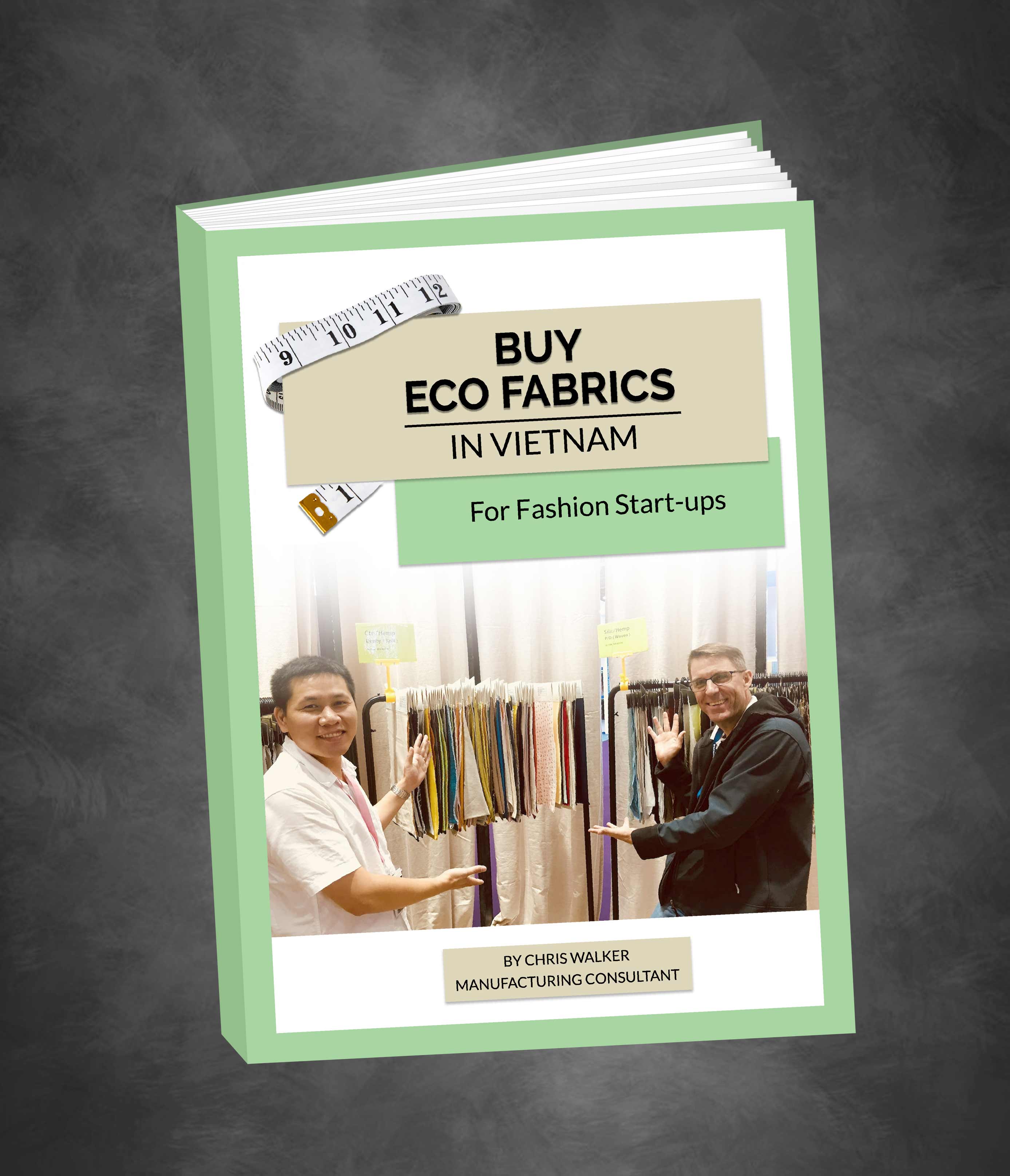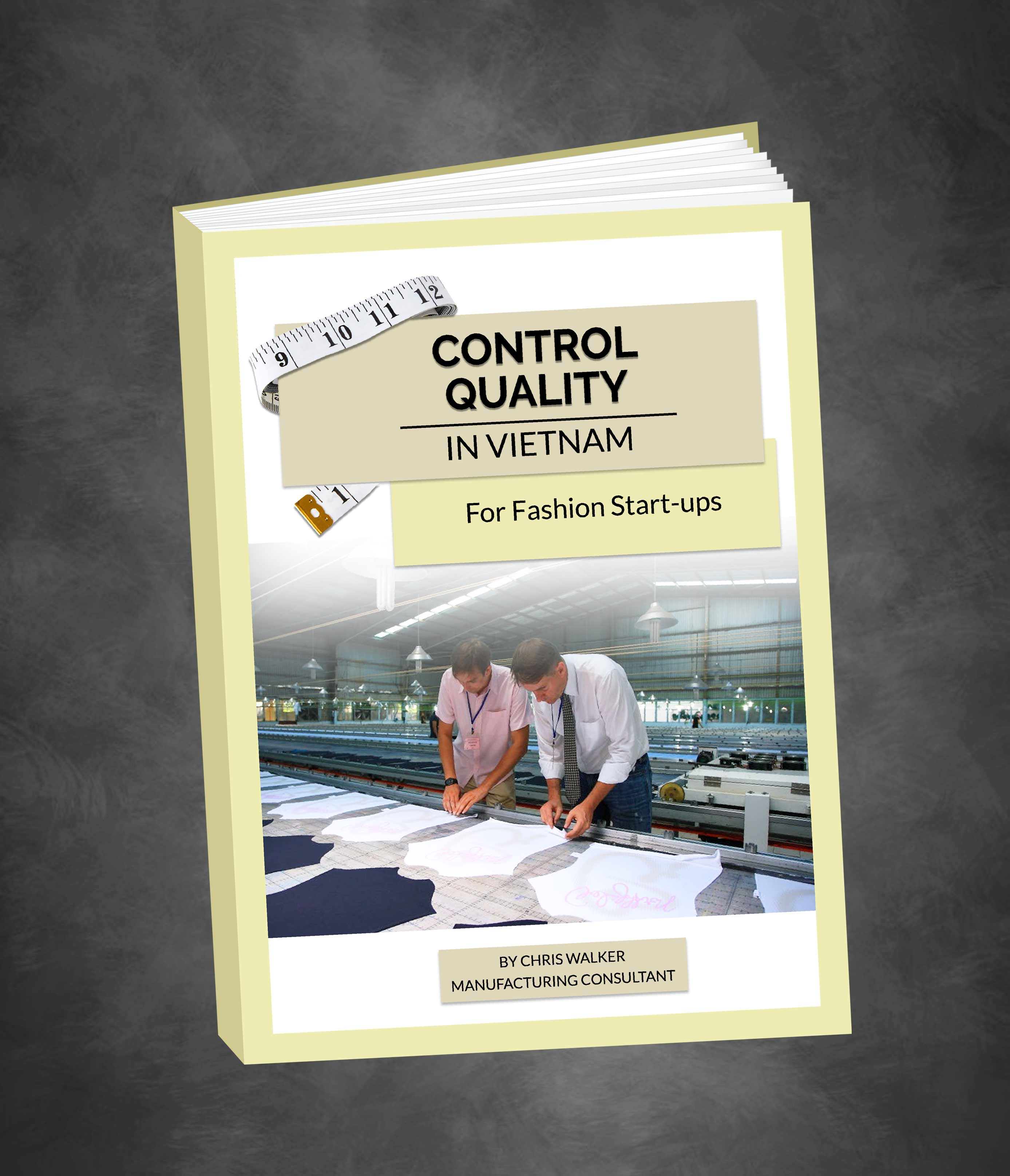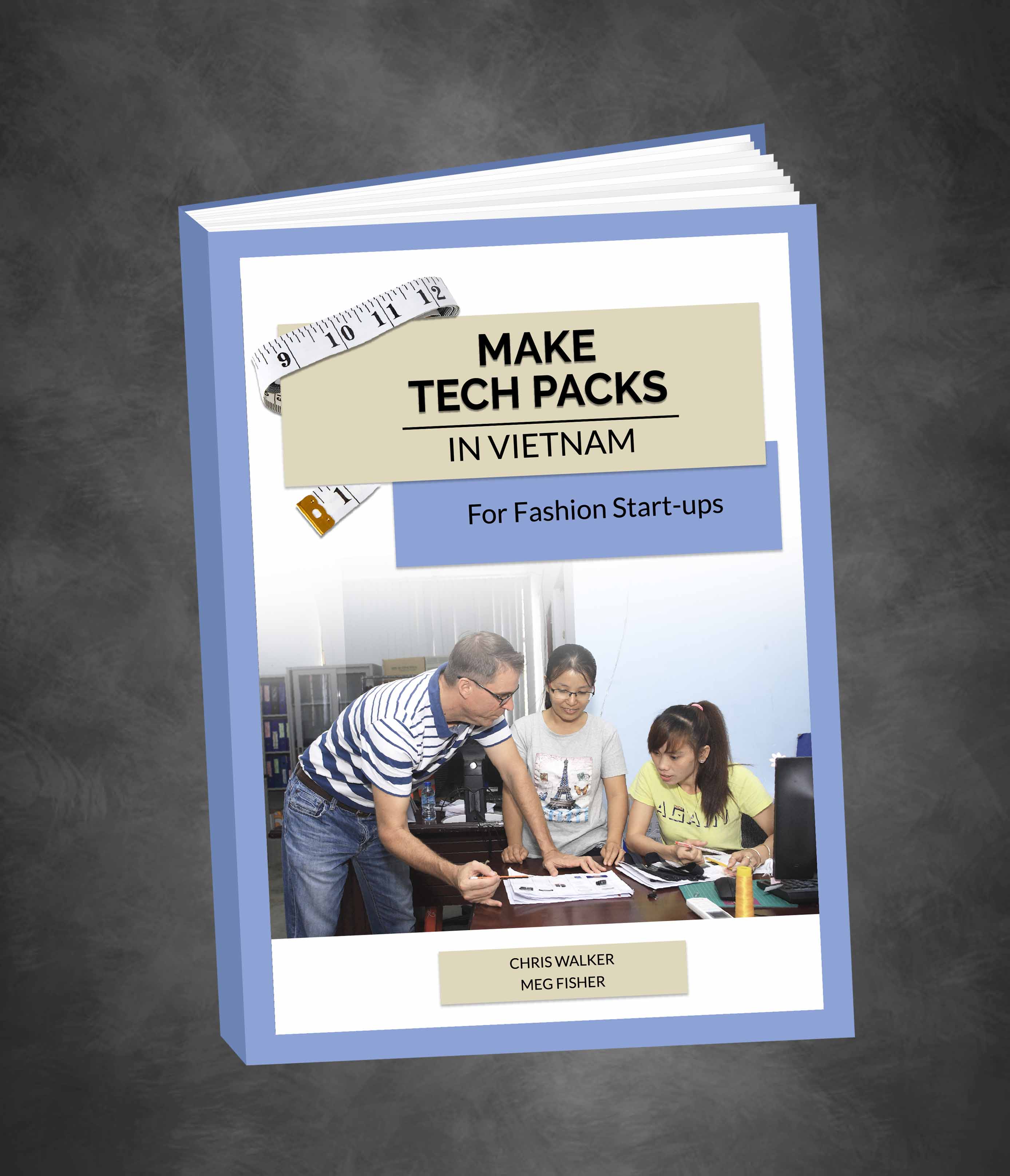 I wrote these books during my first few years
(@ 2008) working in the Vietnam garment industry. I write about basic knowledge and insider tips that I learned - to share with you.
If you are just starting out and need a jump start then I recommend you read my books before contacting factories.
For example, it is critical to know basic things like what is the difference between woven and knit fabric; what is different about viscose, rayon, tencel, modal and hemp; and what is the Acceptable Quality Level system?
Map to Un-Available. There is only one airport in Ho Chi Minh City. It is called Tan Son Nhat. You will either arrive in the international terminal or national terminal. The two terminals are within walking distance of each other but have separate taxi stands. Grabing a taxi can be a bit confusing. Avoid individuals who try to sell you private taxi services. Look for a uniformed employee wearing either Mailinh (green top) or Vinasun (white top.) There are cues you will have to line up in and wait for taxis to arrive. Avoid any taxi that does not agree to use the meter. A taxi ride to the factory from the airport cost under 300,000 Vietnam dong ($12 USD). Make sure you have cash. It will take approximately 20 minutes to drive from the airport to our factory.

From downtown it's a straight shot in the direction of Cambodia. The center of downtown Ho Chi Minh City is the opera house in District 1. Near the opera house are many famous hotels like Caravelle, Sheraton, Intercontinental or Hyatt. From the opera house to our factory the drive will cost under 400,000 Vietnam dong (17 USD) and the ride takes about 30 minutes. Ask the hotel staff to get you either Mailinh or Vinasun taxi and give the driver the print out with our address, map and phone number.

The last mile to our factory is tricky. If you are coming from town you will pass the airport, cross a bride and do a u-turn heading back over the bridge. Don't cross the bride again. Stay to the right and get on the frontage road. At the foot of the bridge is a small street that turns right and leads to our factory about 1 mile down on the right hand side. Our factory entrance is also not easy to spot because our guard house is not curbside. Here is a picture of our entrance and map showing the last mile. If you notice the driver being confused then best to have him call this number. 0938485766. It is the contact number listed on the print out. The staff that will answer can speak Vietnamese and explain to the driver how to proceed.

Note that Uber is not an option anymore. Grab is an option. You will have to download the app and enter in the address but you can pay in cash.
Need help with metallic ink screen printing in Vietnam?
Hi, my name is Chris and I help start ups build their strategy to produce in Vietnam. I also guide experienced professionals as they build their network of t-shirt manufacturers in Vietnam. Do you need help with metallic ink screen printing in Vietnam? Un Available is one of many sewing factories in Vietnam that offers silk screening services. Hire me to point you in the right direction and get things done in Vietnam. Tap into my 10 years of experience working on the ground in Vietnam with customer t-shirt manufacturers.

Let's schedule an appointment to speak by Skype (chris36walker). Please follow the Calendly links and choose the best time and day for you. I available 6 times a week for free appointments and 10 times per week for paid appointments per week. I use Calendly to schedule appointments because Calendly helps manage time zone differences.
• Consulting
• Factory introductions
• Factory visits
• Costing (getting a price quote)
• Design and merchandising
• Quality control
• Factory audits/assessment
• Hosting (renting a desk in our office)
• Staff recruiting
• eBooks about overseas manufacturers
Long round back fashion t-shirt by Un Available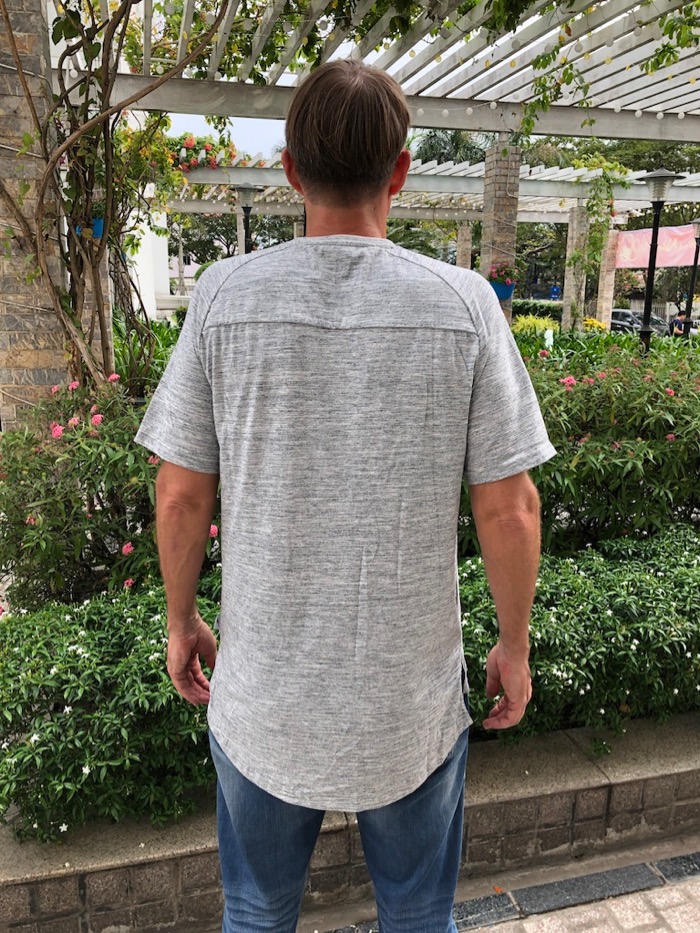 Please give me details about your background and manufacturing objectives.

1. Which styles do you want to manufacture first?
2. Do you have tech packs?
3. Do you have any special factory requirements?
4. Have you produced before? If yes, then in what country?
5. What quantity per style per color do you order?
6. Does your company have a website?
7. Do you want to work with an agent or directly with the factory?
8. Do you plan to visit Vietnam?
Learn More on My Youtube Channel
Consulting
Factory Introductions
Design and Development
A - Z Sublimation Garment Production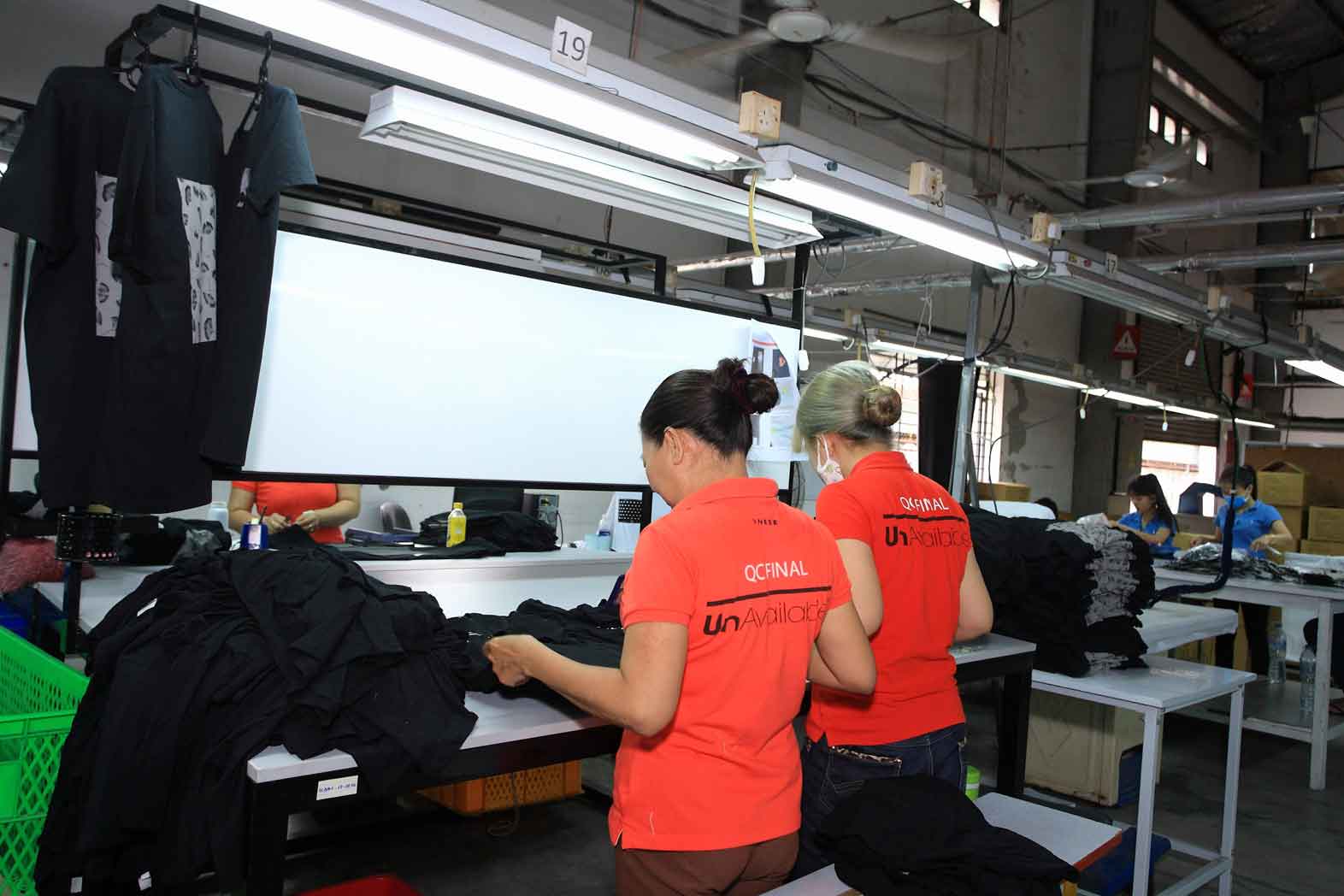 Metallic Silk Screen Print in Vietnam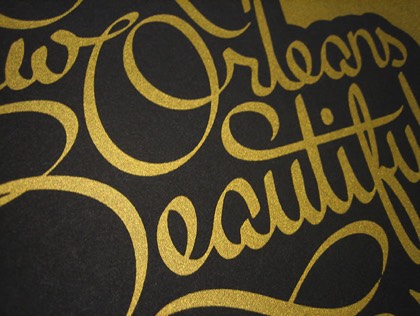 What is the metallic screen printing technique? How does metallic printing on your garment work? How is it different from foil screen printing? This article will help you to answer these questions.
Metallic screen printing is one of 3 common ways the printing industry creates a shining metal look on your garments. It can use water base ink, plastisol or silicone ink to mix with metallic powders. There is a wide range of printing colors for you to choose but silver and gold are the two most popular metallic colors in Vietnam. Silver and gold here mean aluminum and bronze, not actual silver and gold.
Before printing, remember to stir the ink as much as you can because it contains metal flecks thus it is very thick. And thick ink cannot go through the mesh well. You should prepare lower mesh count (86-110) with larger holes between threads for the metallic printing. The process is simple. You print metallic ink on garment using basic screen printing technique. Other than having metal in your inks and using a larger size mesh there is not much different. The result is that you will have a very eye catching shimmer to your artwork.
Like foil printing, metallic printing is quite expensive in Vietnam. There are many large sized metal flakes and thus it does not work well with designs that require fine details. Besides, its lifespan is shorter than foil screen printing as their small particles in ink are brittle and can be broken as well as faded easily overtime. But it is really a good way to get subtle metallic effect for your design.
We can use this technique to print on 100% cotton, 100% polyester and spandex or 100% nylon fabric. Metallic ink is adopted printing on different products such as garments, bags and shoes. If you want to learn more about effects of metallic screen printing, check out
Jakprints
.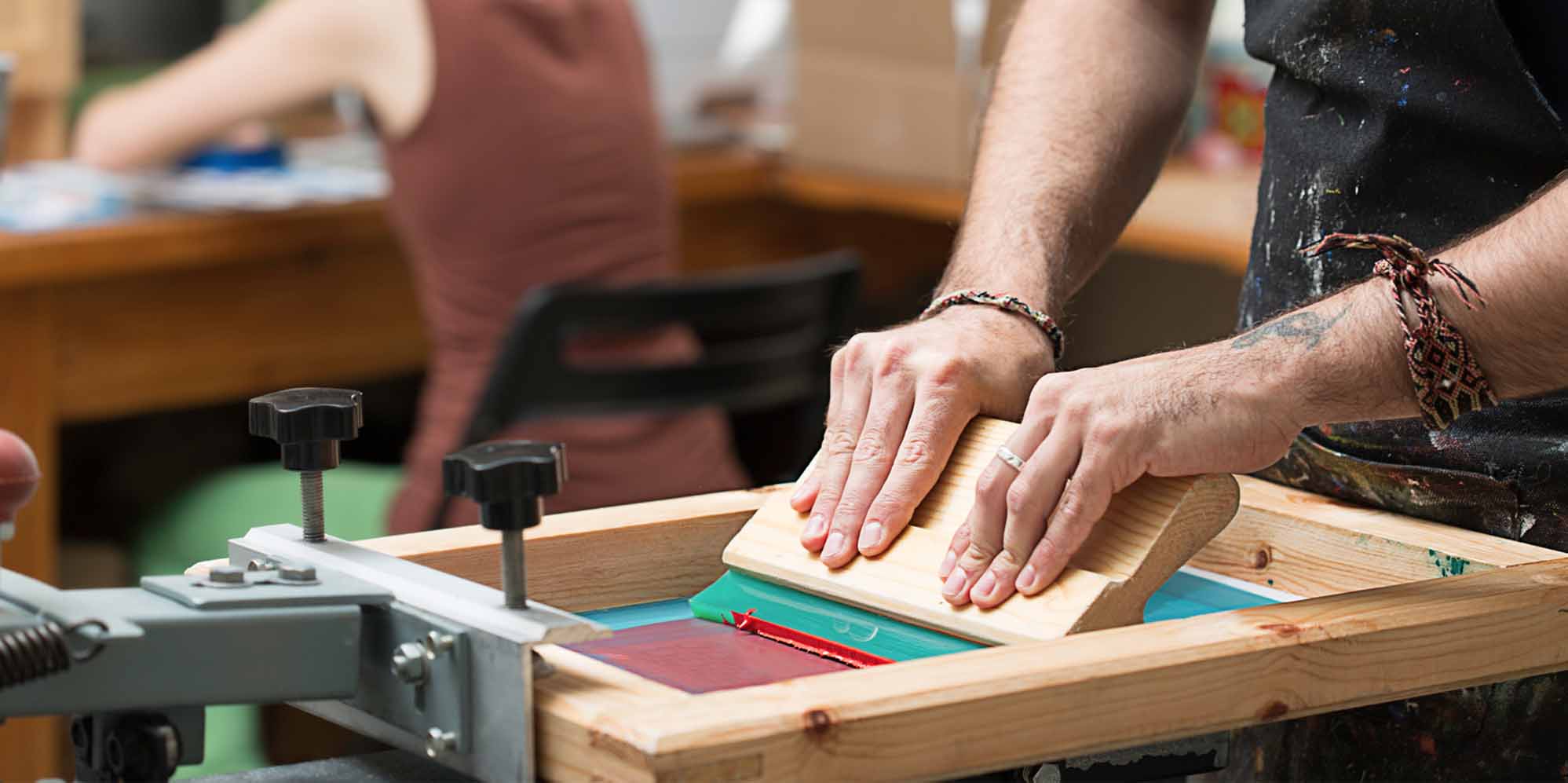 Metallic Silk Screen Printing in Vietnam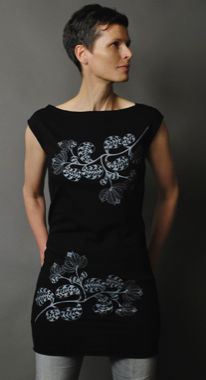 Metallic silk screen print in Vietnam is very common and is used for printing in all types of surface including clothing, handbags, backpacks, shoes etc.
Because emulsion powder is made from aluminum or bronze, they can be mixed in any types of ink that are water-based, oil-based, Plastisol, or Silicon etc. Silver emulsion ink has a grey color which is neutral to any color and can be printed on any fabric. Therefore, to catch people's eyes, designers usually select emulsion-base color for their works. In addition, sportswear is often printed with silver or bronze emulsion ink to project the powerful elegance of the metallic feels to highlight their logos. They also help bring forth decorations suitable for any age and gender. Currently, in addition to the basic silver and bronze colors, other colors with neutral tones can be provided.
Main characteristic of Metallic silk screen print in Vietnam is that it is reliable but could be adversely impacted by strong solvents and other harsh cleaners.
Types of Printed fabric that produces the best results of Metallic silk screen print in Vietnam is 100% Cotton, 100% Polyester, Spandex, 100% Nylon (waterproofing sportswear) and etc.
Drying temperature required for Metallic silk screen print in Vietnam is from 80ºC to 160ºC (depending on the material).
If you want to buy ink for
metallic screen printing
, check out Ryonet website.
Discharge screen printing in Vietnam
Discharge Screen Printing has become more and more popular in Vietnamese garment printing industry. It is the best solution for printing light color on dark garment fabrics.
In water base ink printing industry, colors of the ink have to be the same tone but darker with fabric color to bring the best quality for printing. Thus water base ink is only used for printing on bright color fabrics. To do printing on dark fabrics, screen printers have found a solution using discharge ink. It has activated chemical called Zinc Formaldehyde Sulfoxylate that will bleach out the dark color dye exactly where the new light color will be deposited. Once the dark fabric has been bleached to it's original color, screen printers can print any color they want to on dark colored fabric and get vibrant light colors. So, discharge the original dark dye and then reapply the light color dye.
Discharge screen printing in Vietnam works best with 100% cotton fabrics. Using discharge and water base ink printing will make garments feel soft and look natural. Garment colors in the cobalt blue family like kelly green, royal blue and purple do not discharge well. Discharge screen printing's dry temperature is high (140-160 degree Celsius). It can be ironed with not too high temperature. We can wash a discharge printing t-shirt with cold water and normal washing machine detergents. Its durability is high. However, discharge screen printing in Vietnam has some disadvantages. Firstly, we cannot control exactly the scale of color we want because it depends on many things such as the pressure to press ink into fabric, the viscosity of the ink, the fabric thickness and most important thing is the original dye color of fabric. Secondly, discharge ink has a terrible smell so it can cause allergic reaction to customers if productions are not washed carefully. Lastly, chemical that is used in discharge screen printing in Vietnam is not suitable for manufacturing children clothing.
Discharge and water base screen printing is used commonly in printing T-shirt for adult in Vietnam. Its production cost is medium in comparison with other technologies like caviar bead printing; crack printing; and silicon screen printing in Vietnam. Here is another example of
discharge screen printing
, check it out on Real Thread website.
Reference:
http://forwardprinting.com/services/water-based-screen-printing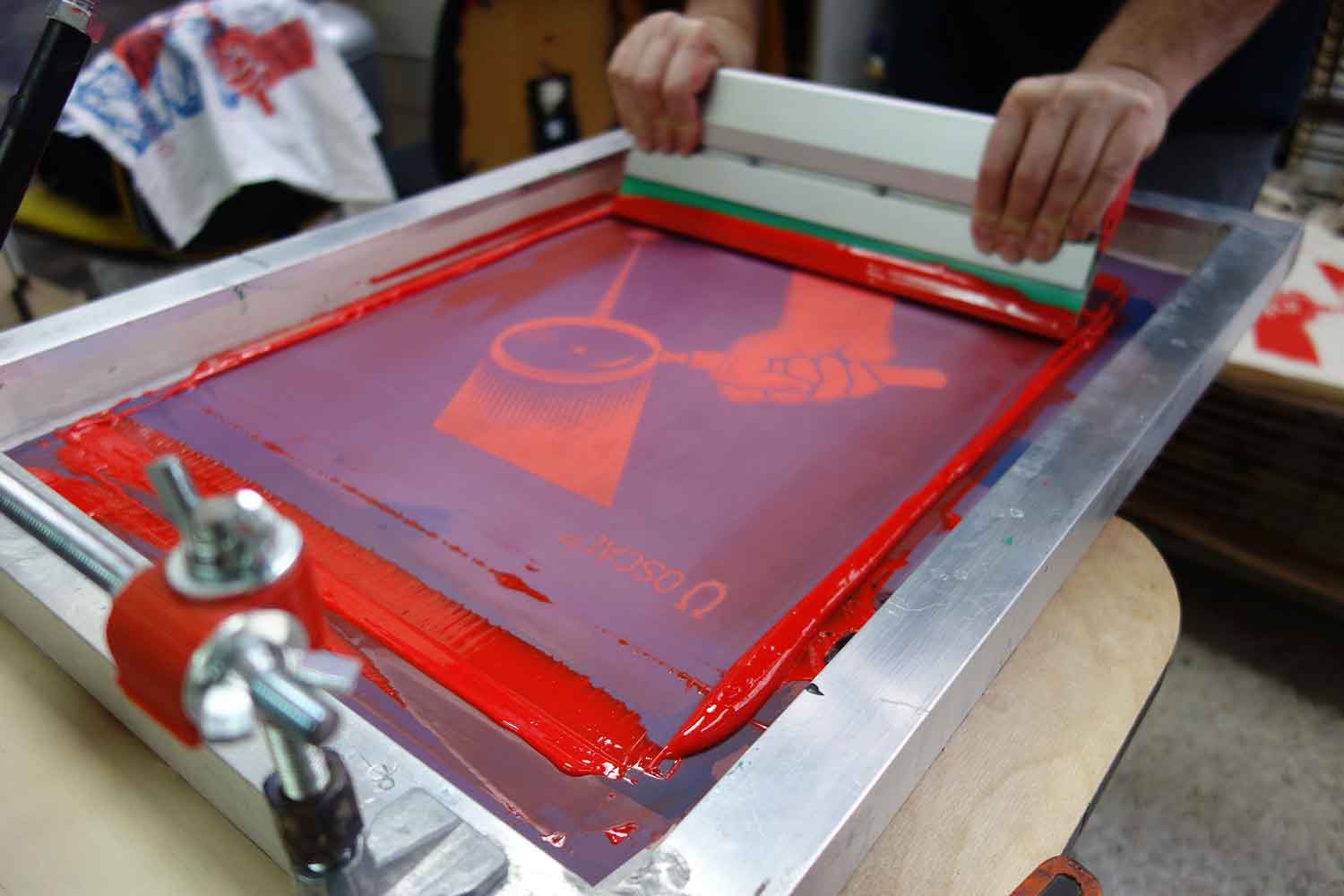 Discharge Screen Printing in Vietnam
The introduction of discharge screen printing in Vietnam has brought a new wind to the industry. Currently, for teen fashion brands, teenagers like design patterns with the concept of the larger the better and sometimes in fully printed products. Therefore, the softness of the products - particularly those without the feel of ink on the fabric - plays the deciding factor. The design patterns must be large and complex yet sophisticated to make wearers feel comfortable. Both water-based and Discharge inks used in discharge screen printing in Vietnam are the best solutions for these requirements.
Water-based ink is only used for light-yet-bright color fabrics. The color of the ink must be the same tone but darker to aesthetically bring out the quality of the products. This in turn tends to limit the ideas of pattern designers when designing large size prints with many colors. To solve the problem existing with water-based ink, discharge screen printing in Vietnam with discharge ink is used as the first layer on the fabric. In doing so, the dye is removed and the fabric is brought back to its original ivory color state. After that any color can be printed as long as the ink is used on 100% cotton fabrics.
Discharge screen printing in Vietnam with discharge ink however does have a serious defect as the color tone between light and dark of its ink is not stable due to a variety of human problem such as the inconsistency in controlling the viscosity of the ink, the pressure to help the ink penetrate the fabric, the fabric thickness, and most importantly the non-uniformity of the dye in the fabric (this is the major cause for Discharge screen printing in Vietnam 's high instability).
Here is a Youtube video of King Screen that shows you how
discharge screen printing
works. Check it out.
Puff Screen Printing in Vietnam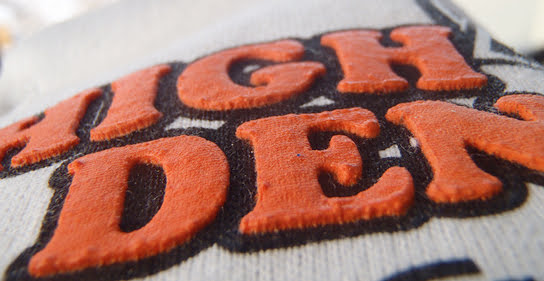 Puff screen printing in Vietnam is a printing technology that uses a mixture of rubber ink and puff ink to print on fabrics. The result is a print effect where the ink expands and creates a 3 dimensional look and feel.
This technology works well with cotton and polyester fabrics; blended with spandex is also an option. Firstly, screen printers choose rubber ink color as normal. Then they mix rubber ink and puff ink into a mixture for puff screen printing in Vietnam process. Dharma Trading Company is a reliable printing ink supplier that knows how to do puff screen printing in Vietnam well. After mixing ink, they print on fabrics according to their garment designs. Lastly screen printers dry the final printing fabrics by using heat press machine. The heat will cause the puff effect. You should note the temperature because less heat will give you less puffed effect. While the print is still wet, heat it to 275˚F/135˚C. Do not overheat. You can control the puff by using hot air gun. But if you want to have the best result, let your print dry in room temperature. Puff screen printing in Vietnam does not have high durability. It can react with strong solvent and detergents. You should not wash or soak puffed printing clothing in concentrated washing powder. Moreover its heat resistant is lower than 120˚C so it cannot be ironed.
Puff screen printing is suitable with all fashionable styles as well as generations of t-shirt enthusiasts. Now you can do
puff screen printing
at home easily by using The puff heat transfer apparatus. This technology is almost similar to the rubber printing but it gives your garment design an enhanced 3D dimension more pronounced than rubber print.
Emboss Puff Screen Printing in Vietnam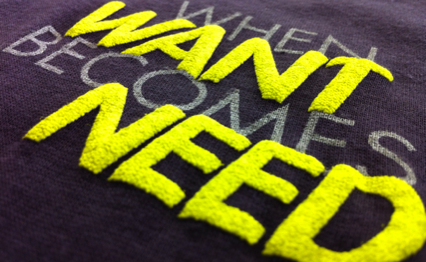 Emboss (Puff) Screen printing in Vietnam was quite commonly used in the past. Ink, after emboss (Puff) Screen printing in Vietnam, is treated under high temperature to create special fancy effects that are in mode with all fashion trends. The major drawback of emboss puff screen printing in Vietnam is its poor durability, because the raised ink introduce surface porosity. There are two popular emboss inks used in emboss (puff) screen printing in Vietnam which can be found is in the mixing of Rubber and Plastisol inks. How does the
puff screen printing
work? Check out this video.
Main characteristics of emboss (Puff) Screen Printing in Vietnam are that it is not durable, does not last well with strong solvents and other harsh cleaners. Types of Printed fabric works best with emboss (puff) screen printing in Vietnam are 100% Cotton, 100% Polyester, Spandex and Denim. Wash Test carried on emboss puff screen printing in Vietnam results limited but guaranteed to hold well for long-term uses.